Skateboarding is a sport for adventure-loving individuals. And if you skateboard, then you might have the idea that the best electric skateboard with remote now exists, and they are very much liked by the skateboarding circle. Now electric skateboards have become a ride with a top speed of approx 26 MPH.
That you can not achieve on a regular ride on a skateboard. Although high-grade compatible wheels provide convenience in both types of skateboarding, when it comes to electric skateboarding, they provide extra comfort and pleasure to your ride.
In addition, the Electric skateboard remote gives you the ultimate power to control your ride on the skateboard so that you don't miss calculate.
Electric Skateboards With Remotes
You can operate your electric skateboard with a single charge which, in many cases, completes in an hour and covers long-range distances for you.
Further, your skateboard remains stable at different speed settings thanks to its brush motors and extra ergonomic design decks that manage your pleasant journeys across streets, pavements, and skate parks.
1. JKING Electric Skateboard with Remote Control – Best for Experts
At the first spot. We have this professional-grade wireless remote control electric skateboard for adults from JKING. This board offers its riders some of the most exciting and thrilling experiences. Now you can cruise at a speed of 26 MPH and a range of almost 21 miles without even noticing.
This electric powered board has an 8-ply maple deck that can withstand around 330 lbs, marking its strength and endurance. Then comes the wheels. It has 90 mm shock-absorbing PU wheels suitable for all-terrain.
The deck of the board has a high-density Maple which is made with emery making it a non-slip and waterproof surface. The most adorable feature of this electric skateboard is that you won't have to worry about slipping when landing over it after performing tricks. Thus it is an excellent choice for street, cruising, and wandering.
Now coming towards its 450W Dual brushless Hub making it a 900W combined. The motor is capable of supporting 3-speed adjustments to riders. Further, this motor is capable of supporting a max 20°climbing angle.
And this powerful motor is all functional due to its 7500mAh lithium-Ion battery, which makes a perfect combination of power and range. Now commuting with this durable and sturdy electric skateboard remote control.
Its portable electric skateboard remote, will allow you to enjoy anywhere and anytime. Further, there are three speed modes with switching freely, accelerating, and braking. Now you can ride and control your board to move forward and backward with just a push of a button.
In the end, we would like to elaborate yet another feature of Push ride. If you are not interested in motor powered skating then you can switch off its electric feature and can operate this board as a normal board without interrupting your fun.
And if you think that your board is losing power then you can change the wheels of your skateboard and not the entire motor needs to be replaced. All can be undone by just replacing the sleeves.
Pros
Best for expert riders
It runs for a long time
It is safe for night rides
Top speed is very fast
Cons
Not suitable for kids
There is no reverse
Enjoy unparalleled access to this batteries powered fun skateboard for professionals but remember it is not suitable for kids. Hit the ground right after purchase and forget about charging. A 12 months warranty gives peace of mind to customers.
---
2. Caroma Electric Skateboard with Wireless Remote Control – Best for Kids and Newbies
Here at the second spot, we bring you this CAROMA electric skateboard which is a combination of perfectly orchestrated features for you. A lethal combination of speed, long range, and power. These electric skateboards work with a high-performance 350W brushless hub motor.
Now let us take you to the features we have enjoyed riding this ultimate technology. For speed, this electric skateboard lets you cruise over 12 MPH with an astounding range of almost 8 Miles.
The remote control with which this skateboard comes has a sleek design attribute that fits into the palm of every skateboarder and the weight of lifting is minimal. But there is one thing that we have noticed is after keeping the remote in hand for sometime you start having perspiration on the hand making it somewhat uncomfortable.
Above this you can easily incline on the obstacles of 15 degrees. Its 2000mAh lithium battery provides the riders with a splendid range for skating all over the park and streets.
The battery pack of this remote controlled skateboard is fully charged in a single charge of 2 hours. It gives the riders the autonomy of enjoying countless rides without the hassle of charging.
There is another splendid feature which highlights its design attributes is that it will make you fall for this wireless remote control skateboard that comes with 2 frog eye lights. Now you can cruise down the street at night without the fear of hitting obstacles or stones.
In the end it has a high density maple deck that can withstand 220 lbs weight without even showing the signs of deformity after riding countless times.
Pros
It is available in 6 colors
No assembly is needed
It is very smooth
Suitable for kids and newbies
It is very economical
Cons
Sometimes it stops charging
Here in the conclusion section we would like to recommend this best budget electric skateboard without giving a second thought. The reasons are its multiple features that we have mentioned above.
---
3. Meepo Electric Skateboard with Remote – Best for High Speed Riding
For those who like to ride short skateboards, this Meeopo electric skateboard with remote is a splendid ride for fun and leisure. A beginner-friendly skateboard that has a 30 inches deck ensures safety, flexibility and provides you with the perfect power thanks to its 540 x 2 watts hub motors.
The wheels of this skateboard are the most trusted feature that we like in it. It comes with polyurethane material.
It ensures low noise and rear-resisting, along with a firm grip for the users. And above all, if you are not satisfied, you can change the sleeves of the board for upgrading.
This skateboard offers an exquisite range of almost 17 KMs on a single charge. It is a perfect source for commuting between bus stops and offices. Kids can take it to school during the hot and humid climate and enjoy the cool breeze.
An electric skateboard remote is a thing that needs to be discussed. It comes with a remote that adjusts to the palm easily. But there is a thing that we have noticed in it. Like the Caroma Electric Skateboard, your hands start to perspire after some time of holding it.
Pros
The skateboard is stable and secure
It is very well made
It has an amazing top speed
The loading capacity is outstanding
Cons
Warranty issues
The customer care is terrible
Our take on this skateboard is that it consumes battery much faster if you put it at the highest speed. Apart from that it is a nice skateboard for kids and professionals, as it offers an extended range with reasonable speed and durability.
---
4. Jking Electric Skateboard Longboard with Remote Control – Best for Battery Timing
Yet another Jking skateboard makes its way into the final list of wireless remote control skateboards. It is because they make some of the best professional-grade skateboards that cover a 12 months warranty to provide its customers with peace of mind.
Typically electric skateboard remotes offer few features, but Jking offers some advanced features for their wireless remote control. This gives a perfect way to control and manage your skate while cruising.
This skateboard offers a 12° climbing angle, unlike its previous version, which can support a climbing angle of 20° degrees. Further, this is a highly portable electric skateboard with a remote that can take its riders anywhere. With superb features of acceleration, braking, and speed settings, riders can enjoy their moments in cool cruising.
The battery for these boards consists of 4000mAh lithium-ion that offers a cruising speed of 16.7mph with a radius of 8.7 miles. Once fully charged, you can enjoy a tremendous amount of time on your skateboard. Another aspect that we liked is it is a perfect board for kids, newbies, and professionals.
Pros
It has a stylish look
The skateboard has a great speed
Battery timing is outstanding
It can maneuver exceptionally well
Enjoy your smooth ride with perfect control over your board right from out of the box. There is no way that you have to manage anything before operating. All you have to see is whether it is charged or not—a perfect board for kids, newbies, and professionals.
---
5. Caroma Electric Skateboard with Remote – Best for Beginners
This is yet another skateboard we have included on the list from the same brand CAROMA. It comes in multiple colors, such as green, blue, and red. It offers a powerful 5000Ah Lithium-Ion battery which can easily be charged within two hours. Further, this portable electric skateboard has an intelligent wireless remote.
With this board now, you can roam freely with its remote, allowing you to switch freely. You can accelerate, apply brakes, and move forward and backward with the touch of a button.
Further, there are 3 modes for speed (High-Medium-Low) according to your needs. Now you have control over your wireless remote control as it can get quickly paired with your skateboard.
The design features of this skateboard offer an 8-Ply Maple Deck which makes it a durable and sturdy deck for holding 330 lbs of weight.
Now coming towards the high-grip wheels of your skateboard that come with shock-absorb 90 mm 85A PU wheels. With these wheels, you can enjoy your ride with smoothness and a pleasant experience.
Pros
Available in multiple designs
Easy on the pocket
It comes with a warranty
Good for beginners
Cons
Low battery issues
Average quality
This board provides its riders with a pleasant riding experience with its perfectly shock-absorbing wheels and maple deck. Further, this board lacks water-resistant features and riders keep in mind while riding.
---
6. Teamgee H20 39″ Electric Skateboard with Remote – Best For Adults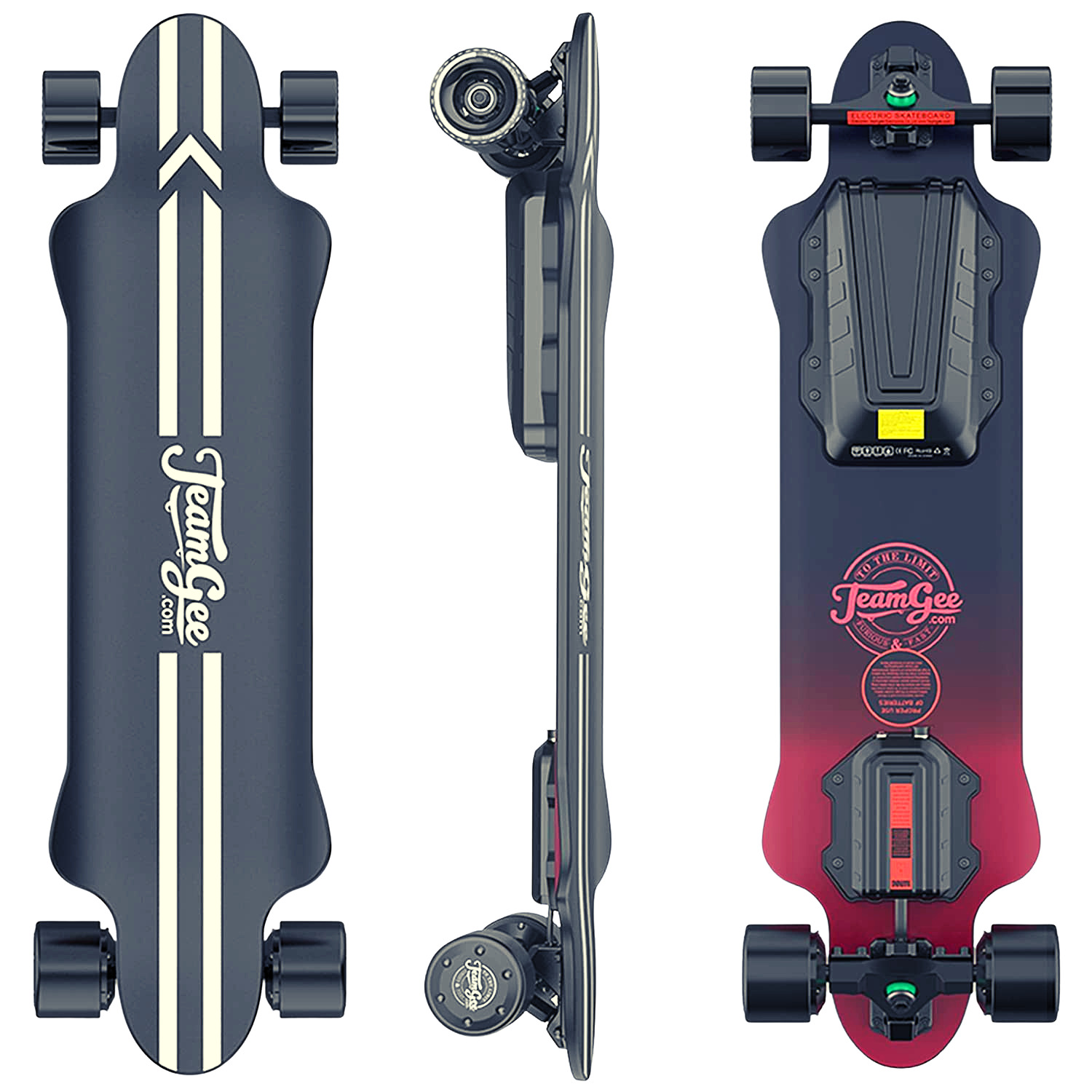 A perfect skateboard for those who like to enjoy greater incline features. With this Teamgee e-skate, you can now have the control to climb at a 30° degree angle.
Further, the speed for cruising for the rider is 24 MPH., and the battery of this e-skate offers high performance taking you to almost 30 KMs on a single charge.
The most considerable thing about this ride is that the battery for this e-skate takes almost 4 hours to charge. And with a single charge, you can cover a decent 30 KMs with it. But as we have mentioned, other skates on the list provide far more coverage with lesser time for charging.
Now let us look at the ride's wheels that offer 90 x 54 mm PU wheels. PU wheels offer a smooth ride to riders and allow them to enjoy greater maneuverability during skating. Another aspect that needs to be addressed is the space of its deck.
It offers a 15mm 8+1 ply Canadian maple and fiberglass deck for skateboarders, which is obviously a non-slipping deck. In the end, this skateboard comes with a 1200 W hub motor.
Pros
The speed is enough to get to places in minutes
The deck shape is comfortable
Easy to use
High quality product
Cons
Poor battery timing
Customer service is not good
Although it is a good option with a fantastic cruising speed for riders. But the battery time for charging takes too long. In addition, this is a good option for this price so that riders can enjoy street skating and on-campus rides with fun.
---
Things You Need To Consider Right Before Making Your Buying Decision for Remote Control Electric Skateboard:
Here are some of the facts that one needs to consider the best electric skateboards for a smooth riding experience.
Price
Buying your first electric skateboard?
You need to keep the price tag that comes with each of these electric skateboards might come as a dent in your budget. For this, you must have due diligence in finding the best electric skateboards for yourself or your kids.
Further, if you are looking for a more affordable electric skateboard, you might have to sacrifice some of the features or attributes of these boards. These include battery life, speed settings, speed modes, and long range.
Warranty
The second most important aspect after price is the years of warranty with which your electric skateboard comes. Electric skateboards are exposed to a lot of wear and tear. Primarily when they are used on a daily basis, as they provide you with the perfect mode for daily commuting.
Moreover, you need to spend more time in making the decision and for that you need to go through the details of the warranty that comes with these electric skateboards.
Stable Riding Experience
You can use your skateboard at high speeds, as they have the perfect endurance for absorbing bumps and crashes when compared with regular board. You can use your skateboards at high speeds, as they have the perfect endurance for absorbing bumps and crashes.
Further, to add is that the affordable electric skateboard is most likely prone to strain as they are better equipped.
Range
If you intend to purchase a perfect skateboard for your adventures. You need to prioritize whether you need a skateboard with a wide range. Because every board comes with specialties that other skateboards won't offer. And if you are more likely inclined for all options boards, then you need to raise your budget altogether.
Speed
There are skateboards in the market that offer maximum speed to their users. They are equipped with multiple speed modes with different speed settings letting the users decide. On the contrary, high speed and smooth riding experience skateboards are very high in demand.
Battery Capacity
The battery capacity of any skateboard is determined by the battery life. High end skateboards come with a battery pack that gives the users a peace of mind. They won't have to charge over and over again. With a single charge they become fully charged and a lot of miles.
Materials
These skateboards are made with some of the sturdy materials that makes them durable and light for riding. Electric skateboards provide a pleasure ride for rider as they are highly portable and easy to carry. Thanks to the material with which they are made.
Further, brakes integrated with the remote control are also made with some of the finest material making these skateboards braking compatible. And if they are not made with such materials the user might end up having accidents and getting them in trouble everytime they cruise on their skateboards.
The motor of a modern skateboard has material to withstand heat and provide the same power all the time. Either on the flat ground with maximum weight they need to perform with the same attributes.
FAQs:
Why Electric Skateboards With Remotes Are So Expensive?
Electric skateboards are expensive, yes, we all admit. And with us, all the customers in the market when they compare it to other regular skateboards. There are many reasons for that. And we are going to discuss it here for you.
First of all, the components of these skateboards are expensive, especially lithium-ion batteries, PU wheels, variable speed modes, different speed settings, ergonomic design of the deck, and dual Bush motors.
Above all, they are made to be Lightweight, endure Maximum weight, with extended Battery life, and not forget the Ergonomic Wireless remote control. So if you add up the costs for these single pieces of equipment that are essential in building an electric skateboard with remotes, you might have an idea why they are expensive in the first place.
Do electric skateboards have remotes?
Yes, for convenience in commuting electric skateboards comes with remote controls for better control and maneuvering. Further, there are electric skateboards that come with universal remote to provide ease during skateboarding.
How much does a good electric skateboard cost?
The price tag attached to each of the electric skateboard with remote varies between $400 – $900. This is because these skateboards come with an ergonomic wireless remote.
How long do electric skateboards last?
The lifespan of an electric skateboard is anywhere between 03 – 05 years. But it all depends on how you take care of your electric skateboard.
Final Verdict:
Here we have combined all the Best Electric Skateboard With Remote for users to have fun, adventure and comfort at the same time. Moreover, these skateboards come with different price tags.
Above all the features and attributes for these skateboards are the best in the market. If you ask for our recommendations to choose among these skateboards. We will go with the JKING Electric Skateboard with Remote Control.
The next skateboard on the recommendations list is Caroma Electric Skateboard with Wireless Remote Control for being the best budget-friendly skateboard in the market.
Hi, I am Mian. I am the Owner and Founder Of Skateboard First. I am such a huge fan of skateboarding, and I am here to enhance your experience in skateboarding.