Where have you been skateboarding throughout your life? Your answer would probably be your home, your school's or college's playground, or your streets. But what I told you is that there are 10 of the best skateparks in the world. Wouldn't it be fun to visit and then try skateboarding there?
Well, going there or not is your choice. And telling you about these skateparks is my responsibility. Due to the fact that this article is going to be helpful for you, make sure you stay around until the end for a thorough understanding.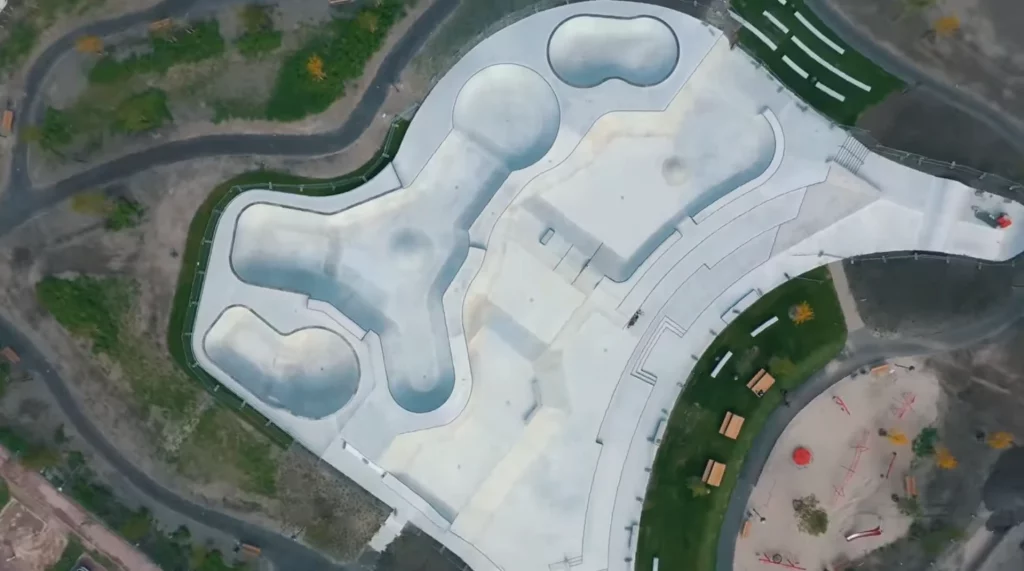 To get started, let's not be late.
10 Best Skateparks In the World
I'm going to tell you about all the cool skateparks in the world across the globe. I've tried to mention only those parks that are well-known. So, let's dive in!
1) Venice Beach Skatepark
On this list, Venice Beach has the best skatepark. Throughout skateboarding's history, Venice Beach has been home to many well-known skate parks. 
From backyard bowls to graffiti-covered concrete plazas, the surroundings of Venice, California played a major role in the development of skateboarding. 
Known as the birthplace of skateboarding, Venice Beach Skatepark is the home of professional and experienced skateboarders. If you're a skateboarder who wants to take part in an exceptional skating experience, Venice Beach is the place for you.
2) Stoke Plaza
Just like going to the United Kingdom is the dream of travelers, Stoke Plaza in the UK is the dream of all skateboarders. This is the best stove, with a total area of 34,000 square feet. In this park, you get to see the amazing stairs, bowls, and transitions.
It means that even if you enjoy doing tricks on your skateboard, everything is ready for you. A massive flat section includes stair sets, flat banks, hubbas, ledges, manual pads, and flat banks. Stoke plaza is the world's best skatepark. 
3) Guangzhou Skatepark
Guangzhou is another amazing place for skateboarding, and it's quite famous as well. However, the place isn't considered to be so great. It is the largest Skatepark and won Guinness World Record in 2015.
Why? because a lot of accidents have been reported due to the bad material used to construct the park. So, I'd not recommend you go there. Also, the park has been closed by the government. So, you might not be able to go there.
4) Marseille Skatepark
There are many skateboarding destinations in France, including Marseille Skatepark. Skateboards are always in abundance at the park. Skateboarders should visit Marseille Skatepark. 
Besides deep bowls and vert ramps, the park has awesome graffiti. There is a high level of skating talent at Le Bowl. 
Once hailed as the best skatepark in the world, this well-known skatepark has appeared in numerous video portions, bowl rider competitions, and even Tony Hawk's Skateboarding.
If you're looking for a skateboarding environment, go to Marseille skatepark. Your experience will be exceptional, I'm sure.
5) Kona Skatepark
Are you planning to go to the USA? Then please don't forget to visit Kona Skatepark in Florida. Skaters from across the country visited Kona Skatepark in Jacksonville, Florida, USA, in the late 1970s and contributed to the development of skateboarding.
The Kona Skatepark has been a world-famous skate park since 1977. In Jacksonville's Arlington neighborhood, it is located. Through three economic downturns and all the ups and downs in the action sports industry, Kona has endured.
6) Downtown Skate Plaza, Canada
Spread over 26,000 square feet, the Downtown Skate Plaza in Canada is the best park for skateboarders. 
The park is free to visit for anyone, making it a great way for people to pass their time there. A vast majority of skateboarders go out and do different tricks. So, if you live in Canada or are planning to go there, don't forget to include the downtown skate plaza in your visiting list.
7) Lincoln Park, USA
Lincoln Park is one of the most unique skateparks that you'll ever visit. The park is built on a hill, which increases its beauty even more. Moreover, the park is great for those skateboarders who are beginners. 
You'll get to learn a lot there. Also, since there are different sizes and types of obstacles, you'll be able to practice your skills quite well there as a beginner. So, Lincoln Park is definitely the best park to go to.
8) Spring Skatepark, USA
Spring Skatepark is a beautiful place in the USA that is spread over 78,000 square feet, which is why it's considered the biggest skatepark in the world. The park includes bowls, verts, and transitions. 
The park is a field filled with experienced skateboarders that you'll see sharing their tips with beginner skaters. 
So, if you want to learn skateboarding, you must go to Spring Skatepark in the USA. However, please make sure that you don't go to the park without a helmet because you'll have to sign a waiver before entering the park.
9) Hastings Park, UK
Hastings Skatepark is the first of its kind in the UK. It features a large bowl park and a smaller street area. 
Source Park should not be confused with it. In the large bowl area, there is an open bowl that is a level lower, a more beginner-friendly bowl section that is a level higher, and an old-school bowl with a gap. 
In the back, there is a volcano and a segment with bumps, edges, and a cradle. Due to its beginner-friendly nature, the fundamental street park is ideal for both inexperienced and experienced riders. 
There are four stairs with ledges and rails, two-quarter pipes where you run into a flat bank, and several transitions with ledges.
10) House Of Vans, UK
There are skateboarding areas and restaurants with excellent service and food in House of Vans, a beautiful park in central London. You can also get a new skateboard deck at the shop if your skateboard breaks. 
Stone-walled railway arches support the park. The lockers allow you to store your belongings as well as purchase food and beverages. Whenever you feel worn out, stop by Vans' art gallery. 
This location is also home to many street artists, as well as concerts, arts and crafts fairs, photography exhibitions, and film screenings.
11) New Amsterdam Skatepark
Amsterdam's ultra-fun park is located on the north side of the city. You can reach this oasis equipped with an outdoor terrace, bar, lounges, and observation decks by taking a free ferry ride over the river and pedaling your rental bike around the docks. 
It is among the most enjoyable parks in all of Europe to stroll around thanks to the Dutch expertise in design.
So, these are some of the best skateparks that you can make your way to for skateboarding. Taking a look at our FAQ section, I'll answer some of the most common questions you have. Let's get started right now.
FAQ
What are the best skateparks in the world?
There are many best skateparks in the world. That includes;
VENICE BEACH SKATEPARK
Stoke plaza
GUANGZHOU SKATEPARK
MARSEILLE SKATEPARK
Kona Skatepark
Downtown Skate Plaza, Canada
Lincoln Park, Oregon, USA
Spring Skatepark, USA
Hastings Park, UK
House Of Vans, UK
Amsterdam
Which skate park is the largest in the world?
One of China's most developed cities, Guangzhou University Town Sports Center, houses the world's largest skatepark. More specifically, it is referred to as GMP Skatepark. Its 182,000 square foot size is recorded in the Guinness Book of Records.
Where are the best skaters in your city?
We know skateboarding today as a result of the birthplace of the sport. There are probably more professionals, businesses, and tourist attractions in this city than anywhere else on earth.
Conclusion
So, now you know about 10 of the best-known skate parks in the world. If you're willing to go to any of these parks, then avoid going to China's Guangzhou Park, as that's not safe for you. 
The reason why I included that park in our list is that it's a quite well-known skatepark. The rest of the above-mentioned skateparks are the best to visit.
That's all I had for you in this article. If you have any questions related to the topic, please let me know in the comment section below. I'd love to help you out.
Hi, I am Mian. I am the Owner and Founder Of Skateboard First. I am such a huge fan of skateboarding, and I am here to enhance your experience in skateboarding.